STRICTLY ROOTS REGGAE VOL 1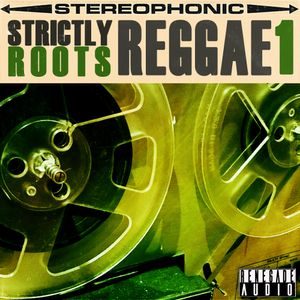 #2 BESTSELLERS LIST ON LOOPMASTERS
 
Strictly Roots Reggae Series Vol 1 takes you back to the iconic sound of 70s roots reggae. The raw and electrifying music emanating from Jamaica that captured our imagination with artists such as Burning Spear, Marley, Abyssinians, Sly & Robbie, Agggrovators, Lee "Scratch" Perry, King Tubby - those tuff driving riddims,

hypnotic bass lines, punchy horns, slightly off-kiltered pianos skanks, bubbling organs and chicken scratch guitar skanks all layered with a variety of percussion instruments that culminated to create a unique and defining style and sound.
Live instrumentation and performance: the focus for this pack is on the "human" element. There are slight imperfections, timing moments that just miss the "quantized beat", notes that add a shade of "blue", a little natural hiss that emanates from guitar amps and bits of noise from analog equipment - all with the aim to provide a highly usable loop pack that brings that little bit extra "something special" to any song.
Gear Used: Benidub Filter, Benidub Echo, Benidub Spring Reverb, Benidub Siren, Strymon Volante, Strymon Blue Sky, Roland Echo 150, Traynor 70s Spring Reverb, Gretsch Drums, Toca Congas, 1973 Fender P-Bass & Warwick Bass, Danelectro and Fender Guitars, Avalon Vacuum Tube, Allen & Heath GL2400 Mixer, Hammond M100 Organ, Yamaha Motif Keys, Roland FP-7F Keys, Neumann U87, C414, Shure Mics, PZMs. UAD Plugins, Soundtoys, various live percussion and more
GENRE(S):
Dub / Reggae / Roots 
STRICTLY ROOTS REGGAE REVIEWS: 23 5-STAR RATINGS
VIP Review Future Dub Orchestra 10/10
Anticipation is always a good thing with the Renegade Audio sound packs, and they never disappoint, as this is the true essence of reggae & dub giving a true interpretation of the musical genre & art form. Starting with Bass not a lot in this sound folder, but quality over quantity in this case, with nice filter fx being used nicely & you get the dry versions also, giving it that soundsytem frequency. Drums follow with a variety of drum loops with dry versions & effected parts, Hi Hat patterns, and rolls are included and a selection of percussion. FX are small but can be useful. A tiny selection of Guitars which will fit in a combination of ways also a tiny section of Horns. Keys are next with a selection of wet version and dry which is nice, & mix of old style organ riffs & pianos etc. A range of percussion instrument sounds are also included & a tiny selection of Vox. Finally you get One Shots sounds. A nice pack, but really hope we get Sampler Instrument versions & the option of Midi, so there is greater flexibility to dig deeper into the world of Dub from Renegade Audio and extend the possibilities, even a composition folder with tracked out stems would be extremely useful.
---
BREAKDOWN (WAV FORMAT)
 LOOPS
 #
ONESHOTS 
 #
Drum
35
Drums (***)
4
Bass
24
Bass
7
Guitar
10
FX
3
Horns
5
Guitar
5
FX
8
Horns
3
Keyboard (*)
27
Keyboards
14
Percussion
21
Percussion
13
Vocals 
14
Vocals
2
 
 
 
 
TOTAL LOOPS 134
 
 
 
TOTAL ONESHOTS 59
 
 
 

* Keyboard Loops include: (Wurli, Organ, Piano, Clavinet, Rhodes, Farisa)
*** Drum Hits include: Crashes, Hihats, Kicks, Snares, Toms

TEMPO RANGE: From 85BPM & 135BPM
GEAR USED:
Roland RE150 Space Echo, Roland RE-20 Space Echo, Roland Chorus SRE-555 Echo, Korg Minilogue, MoogerFooger, Traynor TR-2 Spring Reverb, BOSS Digital Reverb, Yamaha MOTIF, Warwick & Fender P Bass, 1986 Stratocaster, Gretsch, Epiphone Guitars + Various 60s Japanese guitar oddities, Ibanez Harmonics HD1000, Neuman U87, Yamaha Gro-112 II Tube Guitar Amp, Gretsch Jazz Drum Kit and Ludwig Breakbeat Drum Kit.