AFRO FUNK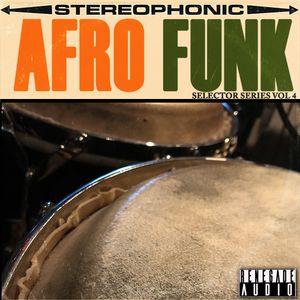 The sounds of 70s AfroFunk (Fela Kuti, Ebo Taylor, The Funkees and more) is the original sound and style that inspired this pack. It's within the inspiration provided from these great musicians and productions that we've crafted sounds and instrumentation that evoke the spirit of this funky, raw groove sounds.
To the lofi, slightly pitchy tones of the guitars, horns and keys, not unlike some of the classic sounds heard in 70s roots reggae from Jamaica to it's this rawness and energy that are the backbone and driving force of Afro-Funk.
With a tempo range of 100-134BPM - Afro Funk (Selector Series Vol 4) aims to target the vintage sounds of the 70s alongside a contemporary feel and groove. As always there's the esthetic of the Dubmatix sound - echos, reverbs, phasers, Lofi and more - incorporated into the loops and sounds to provide a variety of textures and sounds for almost any genre of music.
There are funk and hip-hop, afro, Latin drums, tons of percussion - from congas, bongos, shakers, tambourines, and more to in your face horns mixed with treated processing of reverb and echo to expand the possibilities.
GENRE(S): AfroFunk / Latin Funk / Funk / Hiphop
Tempo Range: 100-134BPM
Size: 1.4GB
429 Loops / 175 Oneshots
 
AFRO FUNK REVIEWS:

VIP Review Bassbin Twins 10/10
An already stellar collection of sounds with an additional trick up its sleeve: variations of parts which are unspeakably useful when in the midst of production.  The variation feature instantly expands dimension and sparks inspiration in use on a par-part basis.  Typically there's the "straight" version of a file then Echo and LoFi renders as well which are distinctly alternate colors.  As with all Dubmatix packs the dub force is strong here but what's refreshing is how it's framed outside of the purely Dub environment via the included BPMs and the Funk-focused nature of the pack.  The Renegade label is just on fire and this title is pure evidence.  
VIP Review Jon Rundell 8/10
Great pack full of really cool funk rhythms and drums. If you are looking for something that little bit different to add into your breaks, techno or house tracks then check out the horns and guitars sections for sure, some awesome sounds in there. The one shots are also reall
---
BREAKDOWN (WAV FORMAT)
 LOOPS
 #
ONESHOTS 
 #
Drum
139
Drums (***)
Kicks 23
Snare 27
Cymbal 23
Bass
49
Bass
16
FX
15
Misc
18
Guitar
58
Guitar
18
Horns
94
Horns
19
Keyboard (*)
122
Keyboards
24
Percussion
182
Percussion
44

 
GEAR USED:
Roland RE150 Space Echo, Roland RE-20 Space Echo, Roland Chorus SRE-555 Echo, Korg Minilogue, MoogerFooger, Traynor TR-2 Spring Reverb, BOSS Digital Reverb, Yamaha MOTIF, Warwick & Fender P Bass, 1986 Stratocaster, Gretsch, Epiphone Guitars + Various 60s Japanese guitar oddities, Ibanez Harmonics HD1000, Neuman U87, Yamaha Gro-112 II Tube Guitar Amp, Gretsch Jazz Drum Kit and Ludwig Breakbeat Drum Kit.