JUNGLE BUNDLE
Download Free 80MB (30 loops) Taster Pack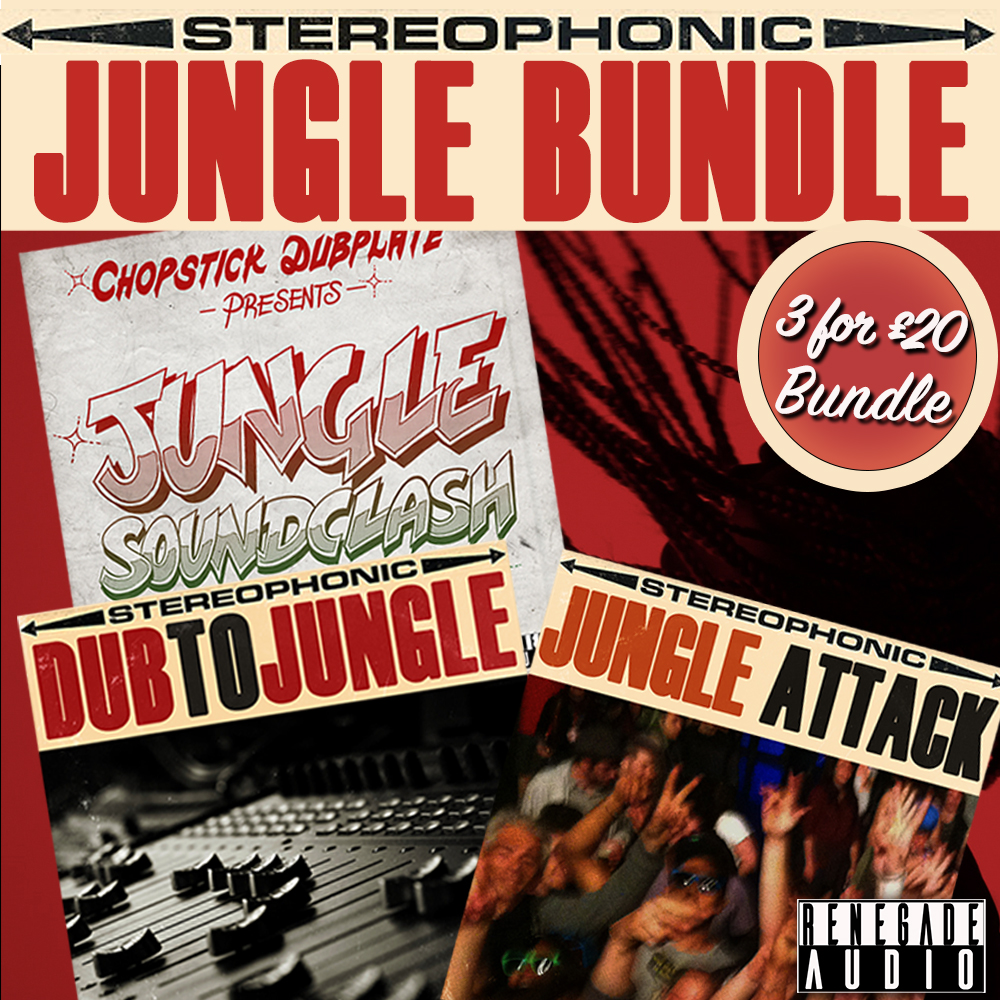 Jungle Bundle (3 packs in one)
Label: Renegade Audio
Genre(s): Jungle, Dub, Reggae, Dancehall, Hiphop


Tempo: 70-175 BPM
Size: 3.5 GB (1128 Loops | 1524 Oneshots)
Chopstick Dubplate Jungle Soundclash Vol 1 (1.5 GB - 500 loops / 320 Oneshots)
Future Music Magazine
Junglist massive! Oh my dayz! now this is a mega take me back to the junglist days ! Now there is many a junglist sample package out there but this is next level accuracy! The drums totally epic! 
 You've seen the Chopstick Dubplate name in the Drum'n'Bass / Jungle scene for over two decades and now, for the first time, you can create or layer some of Jacky Murda's iconic sounds into your own productions.
Diving deep into the vaults of some of the most recognized dancefloor smashers comes Jacky Murda's on-point, sub-heavy jungle rollers all packed into Chopstick Dubplate presents Jungle Soundclash Volume One of a series. Inside the pack, you'll find Drums (full kits/grooves), Drum Fills, Basslines, Musical Skanking, Riffs, and FX, plus a solid array of Oneshots so you can build out your own bangers.
Jungle Attack (970 MB - 408 loops / 219 Oneshots)
VIP Review: 10 / 19 Bassbin Twins
The drum loops are some of my favorite in the 160bpm + arena and are both wonderfully vintage and absolutely body-moving. Overall this pack is worth is for the drums alone and essential for the musical elements as well.
Fire up the air horns, crank up the Soundsystem, and get ready to move. Taking inspiration from the sounds and grooves of the golden age of Jungle & Drum & Bass with the likes of Roni Size, SHY FX, Goldie, and other esteemed veterans of the era, this is a high-octane pack full of hammering syncopated grooves, bubbling subs, lush musical combinations, frenetic percussion, and loads of synth pads, silky keys, and trance-inducing vibes. As with all Renegade Audio releases, Jungle Attack has been meticulously handcrafted to provide maximum impact and vibes to your productions and is one we know will provide inspiration for years to come.
Dub To Jungle (1 GB - 220 loops / 985 Oneshots)
VIP Review:  9/10 Bassbin Twins
Everything from digital dancehall to lovers dub to jungle can be sourced here and as usual with Renegade the sound design is top tier.
Subtifuge of Totally Dubwise Recordings teams up with Canada-based Dub Arc Studios to provide a one-stop shop sample pack for all those looking to inject a Dubwise vibe into their productions, literally from Dub to Jungle, Dubstep, Grime, Breakbeat, 2step, Garage, Drum & Bass, or any sound looking for that additional tropical or Dubby edge, featuring a whole host of sounds from live Instrument samples to Drums, FX, Soundclash Samples & much more.