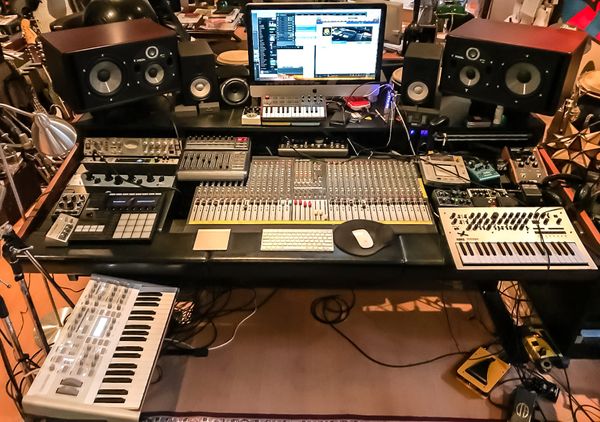 Full Mastering for releases - Singles, EPs, Albums, Vinyl, CD
The music I've worked on has been heard on thousands of radio programs worldwide, TV & Film, millions of listeners and include BBC's David Rodigan, Don Letts, Annie Mac, Craig Charles, Rolling Stone Magazine, Billboard, Irie Magazine, Juno & Grammy Winners,  major radio networks international all the way to blogs, podcasts and beyond.  I listen to your track, make any suggestion I feel will help the final sonic result and won't stop until you're happy. 
Over the past 18 years, tracks mastered at Renegade Studios include Grammy & JUNO Award-winning artists,  support from some of the top BBC Radio shows - David Rodigan, Don Letts, Annie Mac, CBC Radio (various shows), Rolling Stone Magazine,  The #1 Album Global Reggae Charts, Irie Mag along with thousands of radio programs, stations, sound systems, publication and media worldwide. 
"Mastering a song with Dubmatix is not only his professional and heavy sound which is guaranteed but his suggestions on the mix have often lifted some pieces that needed that extra spice. A kind man with a great heart for creating sound and always being clear on what could be added to some frequencies or instruments! After a year of working with Dubmatix I can say I learned a lot as a producer. So thanks brother!!!" - Arky Starch
HOW IT WORKS
My goal for every song is to help you achieve the best result possible for your music. If you're ready to have your song(s) mastered, the first step is to send a wave file and I'll have a listen and see if any aspect of the mix could be affected or need to be "tamed" during the mastering process. I'll generally do a test master to listen for any small changes that will help improve your mix and then send them to you. If we need a few listens to get the best mix ready for mastering, we take that time to do so. 
MASTERING SERVICES The following services are included
Mix Analysis -- listening to your mix and making any suggestions to help improve it before mastering
Dynamics (compression, limiting)
Tone
Mid/Side Spatial Optimization (Audio spread)
Loudness
Optimize start and endpoints
16-bit (CD optimized)
NOTE: 3 mastering revisions provided. 
PRICING: 
Based on the project: Single, EP or Album. Please contact me with your project information.
WHAT TO SEND
SINGLE TRACK WAV FILE
The highest resolution WAV file possible between -6 and -3dB (please send via Wetransfer or similar service)
Meta Data Info (Artist, Title, Album Name, Genre, Year, IRSC, Publisher, Writer, Label)
STEMS
There are times when sending grouped stems will help speed and smooth out the final mastering as it allows me to make any small eq, volume, dynamic,  or other required changes quickly. 

FINAL DELIVERY
24-48 Hour turn around. (same-day option available for an additional charge of $25 USD)
16bit final song master provided
Meta-Data embedding
PAYMENT INFO
50% Deposit required to start - the remainder due after completion.
Paypal  / eTransfer accepted
 
A FEW CLIENTS
Sly & Robbie meet Dubmatix #1 Reggae Album Worldwide (2019 Juno Award winner Best Reggae Recording)
Bob Marley - Is This Love (Remix) #1 Billboard Bob Marley Remix Pick (2016)
Morgan Heritage (Remix / Reggae) Grammy Award Winners
Dubmatix - (All releases - Alton Ellis, Sugar Minott, Mykal Rose, Mighty Diamonds, Eek-A-Mouse, Horace Andy and many more)
Dreadzone & Dubmatix - Dread Lockdown
The Hempolics & JStar
Firepower & Coop
Kaya Street
Richie Phoe / Kingston Express Records
Kingston Express Records
OKAN (Cuban)  (2020 & 2021) JUNO Award Nominated)
Jay Douglas (2020 JUNO Award Nominee)
Ram Goat Records (Reggae) Junior Cat, Joseph Cotton, Dignitary Stylish, Speng Bond,  Cheshire Cat, Pad Anthony, Parly B, Powa Man, Daddy Shark, Peppery, Jr. Cat, Nutty Gritty.
Burning Babylon (2020 Album)
Bill King - Mondo Jumbo (Soul Jazz / Latin Funk Album)
Reggaeaddiction (Reggae)
iLLBiLLY HiTec (Reggae / Electronic)
Irie Ites Music 
The Human Rights
Menace+Live (Hiphop / Reggae)
Dub Trinity (Reggae / Dub)
Kento (Folk / Acoustic)
Freddylocks (Reggae)
The Dub Chronicles (Reggae / Dub)
M.O.K.O (Electro / Rock)
Herbical (Reggae)
Arky Starch
Kaeni (R&B / Soul)
Unity Family (Reggae)
Radio 77 (Reggae)
Foundation Sound (Reggae)
Loveproof
Foundation Steppers (Album)
Arky Starch - Faith In Dub (EP) + Singles
Unity Family - 2 Singles
Irie Boa - Single
Acid Brain (EP)
Sillvz - Album & Singles
Kaeni - 3 Singles
Human Rights (Album)
Loveproof - Single
Mod Sound - Single
Pomegrante Sound
Women's College Hospital Toronto / Bill King
Children's Aide Foundation
Arky Starch
Acid Brain
C.J. Joe
Mighty Pepper
Fire & Coop
 
A FEW ARTISTS THAT DUBMATIX HAS WORKED WITH
Ackboo, Addis Pablo, Aldubb, Alton Ellis,  Anthony B, Ari Up (The Silts), Dub Pistols, Augustus Pablo, Balanced Records, Battle of Santiago, Brain Damage, Cornel Campbell Dennis Alcapone, Dreadzone, Don Letts, Duane Stephenson,  Dub Syndicate, Earl Zero, Easy Star All Stars, Easy Star Records, Echo Beach Records, Eek-A-Mouse, Ernest Ranglin, Freddie McGregor, G Corp, Gappy Ranks, George Nooks, Ghost Writerz, Green Cross, Guive, Half Pint, Heavyweights Brass Band, Horace Andy, IllBilly Hitec, Irie Ites Music, Jah Mason, Jay Douglas,  JMan, John Browns, King Tubby, Kingston Express Records, Linval Thompson, Lone Ranger, Luciano, Lutan Fyah, Marcus Visionary,  Mighy Diamonds, Morgan Heritage, Mykal Rose, OKAN, Omar Perry, Parly B, Pinchers, Prince Alla, Prince Blanco, Prince Jazzbo, Ragga Twins, Ram Goat Records, Ranking Joe, Ranking Roger, Sly & Robbie, Sr Wilson, Subtifuge Records,  Sugar Minott, Tackhead, Tanya Mullings, Tenor Fly, The English Beat, The Hempolics, The Human Rights, Tippa Irie, U Brown,  U Roy, UB40, Vibronics, Victor Rice, VP Records, Wayne "Sleng Teng" Smith, Willi Williams, Zion Train
MASTERING SUBMISSION FORM